Meet our Team of Inspiring Pilates Instructors
You're wondering if Move Move is for you. And who we are. And how we can help you.
Each of our amazing team of Pilates Instructors have their own inspiring Pilates journey. So, here are our stories.
Lou - Owner, Founder & Senior Pilates Instructor
I founded Move Move because I've suffered chronic pain, I've felt like an 80 year old in a 40 year old's body. I literally feel your pain.
My Background
For years I just put up with pain. I trudged off to my office for 8 or more hours a day. A normal day would consist of a headache – "I'm just a headachy person" I'd say. My left shoulder ached all the time. Yet, I was going to the gym regularly, eating reasonably healthy (most of the time!) and never seeing any change in my body or how I felt. Is this sounding familiar yet?
Pilates Changed My Life
One day, I tried a Studio Pilates class. I couldn't believe how hard it was, and even better… how good I felt after. The level of detail involved appealed to my analytical brain – so much more than the go harder, go faster gym mentality I was used to. After a few sessions, I was well and truly hooked.
The headaches became less, my shoulder stopped hurting, I had more energy, less aches and a brand-new lease on life.
Living my Dream
Super inspired by my Pilates experience and fed-up with the corporate rat-race, I signed up for an instructor course. A year later I was a fully certified Stott Pilates instructor teaching Pilates across Melbourne. Six months after that I opened my own studio in Albert Park, Pilates by Lou. My dream was to share my passion for Pilates and help others in the same way it had helped me.
Two Steps Forward, One Step Back
Things were great, until they weren't. The perma-headache was back, my body ached everywhere, and again I was exhausted all the time. I needed a nanna nap just to get through the day! Eventually I was diagnosed with Chronic Fatigue Syndrome. Pilates plays a big part in managing things up to this very day, it's gentle enough to do without over exertion. I've been lucky to find amazing coaches who guide me through the hard days and help me find my way again. Like anyone, I'm not perfect but a work-in-progress!
The Here & Now
In 2015, I relocated and brought Move Move Pilates to Cheltenham. My experiences with chronic pain gives me a unique perspective to help others. By helping you learn about your body, how it processes pain and what you can do to help yourself is the very reason Move Move exists.
Qualifications & Training
Dale - Senior Pilates Instructor
For as long as I can remember I've been endlessly curious about the body and how it moves.
My Background
My curiosity led me down a natural path to study a Bachelor of Human Movements degree at Rand Afrikaans University in South Africa. Whilst at university I first discovered the Pilates Method. I was lucky enough to chance upon a fantastic coach who became my "mentor" early on in my studies. She also happened to be the body conditioner for PACT (Johannesburg Ballet Company) and every class she taught was based upon the Pilates principles. Practicing Pilates only piqued my curiosity of how the body works, and in particular rehabilitation.
Focusing on Pilates
At 25 I moved to the UK where I started my personal Pilates journey. I completed numerous Pilates courses including a remedial Pilates course conducted by physiotherapists from Harley Street in London. By 2010 I was a Fully Certified STOTT PILATES® instructor. Since moving to Australia, I've continued to fuel my curiosity and completed a nationally recognised Diploma of Professional Pilates Instruction, now specialising in woman's health. I dedicate a large proportion of my time helping others find their pelvic floor and coaching them on how to use those little muscles correctly in everyday life.
My Priority is You
Having worked within the industry more than the many years I'd like to admit, my experience and knowledge, coupled with patience, dedication, as well as a hands-on approach, provide you with a comfortable exercise environment. Whether teaching a class or private session, I balance cheerful encouragement with meticulous movement, all the while keeping it fun. I'm inspired by the changes I see on a daily basis as you build strength through making health and wellness a priority.
Qualifications & Training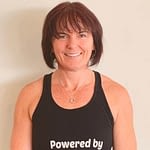 Sharon - Pilates Instructor
I fell into the corporate world very early on in my career, but I always said if I wasn't doing this, I would be working in the health and fitness industry.
My Background
I came to teaching Pilates from 27 years in corporate advertising (gasp! I started when I was 5!). I was lucky enough to have a subsidised health programme through work and one of the options on offer was Pilates. I chose it literally because the studio was a two-minute walk from my office, so totally a case of convenience at the time. It wasn't until I'd been practicing Pilates for a good six months, when all at once, an understanding of the movement patterns started to fall into place. An understanding of why I was moving in a certain way, an understanding of what that movement was supposed to achieve, with the outcome being change – increased mobility, an improvement in running gait and reduction in glute/hamstring pain (I was running 5 km 4x a week so improving my running at the time was a key goal).
Burnout Leads to Big Changes
At the same time, I was struggling to go to work each day, 27 years had taken its toll – tired and my fire had burnt out. After two years of threatening my husband 'today might be the day', the day came. I had no plan but because I always said if I wasn't in advertising, I'd focus on health and fitness, it made sense to spend some valuable time investigating the options. Because I'd had experienced obvious change through Pilates, I decided that I simply wanted to know more. So I spent two years studying mat and studio equipment to gain a full diploma. As part of that journey, I was invited to return to the education team as a mentor in training to new students and am now a full mentor.
Push It in the Best Way
Those who know me, know I like to push the body, it's capable of so much more than what we think. Progressively improving strength, mobility and flexibility, not only with my own body but for all those who wish to move, while placing consideration on where each individual body is at. No body is perfect and every body has its own pain points, restrictions, and challenges (believe me, I know!), all of which can be worked through and pushed past. It's all about time and consistency. And most importantly having good fun at the same time! Moving should never be a chore!
Qualifications & Training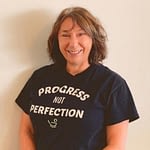 Annalisa - Pilates Instructor
Like many desk bound workers, my tired, achy lower back was the bane of my life. I just wanted to move freely!
My Background
My love affair with Pilates started in 2004 as a participant in Pilates classes. Like so many before me, I started Pilates as a means of overcoming lower back pain. After experiencing the benefits in my own body, this quickly turned into a passion for the movement itself. Nothing comes between me and my Pilates practice!
Ready for Something New
After almost 30 years working at a "desk-bound" office job within the fast-paced marketing industry, I was ready to direct my creativity elsewhere. With encouragement from my Pilates teacher, I started my Pilates training to develop a career in movement, knowing that Pilates training goes so much deeper than just the muscle being worked. I could use that creativity to problem solve each day. I completed my STOTT mat work certification in 2012. Not one to rest on my laurels, I went on to complete my further training culminating in a diploma.
Finding Balance
My new career in Pilates has freed up time to spend with my husband and family. Including playing with and training my lovable hounds, messing about in the kitchen, learning Italian and being Nonna to my two gorgeous grandchildren.
Qualifications & Training