Welcome to Move Move Pilates!
Hi.
We know.
We fight that little voice in our head too.
The one whispering …
"This place looks like it's straight out of 50 Shades?!?"
"Not sure what goes where."
"This couch is really comfy."
"Next week. Promise."
But don't worry.
You've stumbled upon literally the second best thing you can do lying down. It's called Pilates, and Pilates is a fantastic series of slow gentle movements that taps your spirit so you balance your brain and bod. It'll make you happy.
Discover Move Move.
An anti-gym full of smiles and good times. It's a fun and easy-going space where you don't need a ballerina's bod (or be under 40) to fit in.
We're just a bunch of real people.
With flaws of our own. (Even the ones who guide our practice.) So we all relate with many for whom the biggest challenge is to actually walk through our doors for the first time.
And so proud you've made it this far.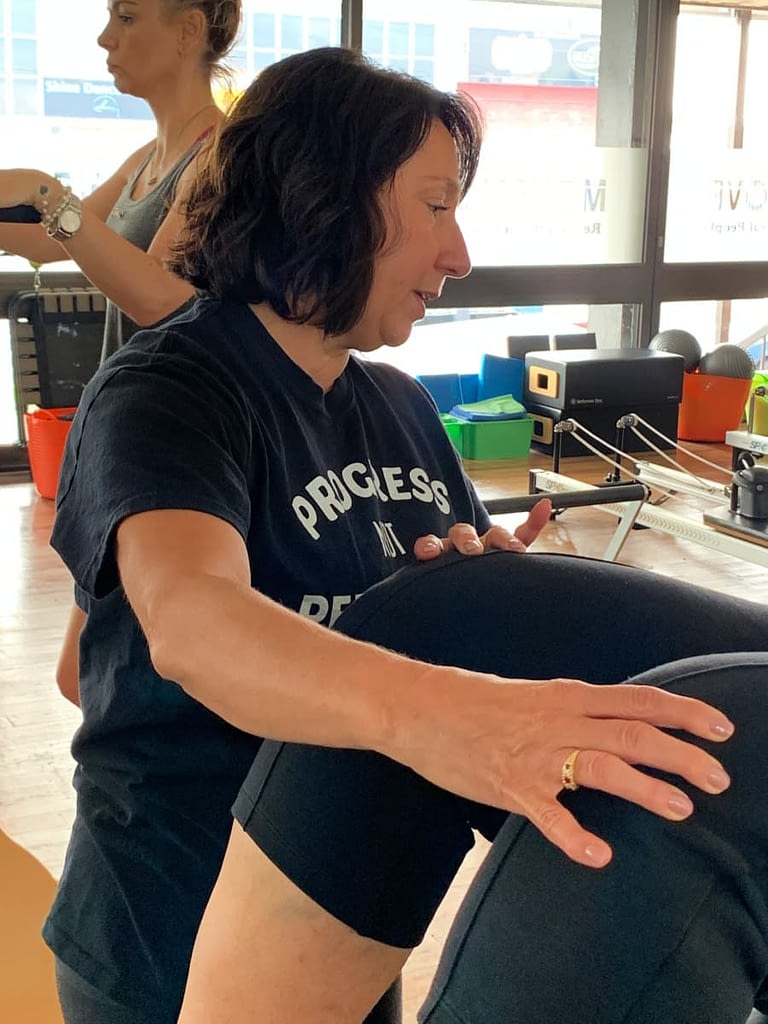 Not all Pilates is the same.
Let's see, if what's on your 'Would be nice' list to…
Then yay! You'll fit right in.
If your list is more naughty like…
Sorry. We might not be a great fit.
Real Pilates Run by Real People
At Move Move you'll be greeted by a knowledgeable and patient Coach (that's what we call Instructors) who probably look like you: a real person with some life experience.
Express Pilates That's Precise, Not Rushed
Over 40 minutes of Pilates with us, you'll perform a series of specific moves only a few times with exacting attention paid to your form. The emphasis in our Pilates is in quality, not quantity.
You'll Learn Something
Expect to focus on your posture. So you'll be coached to position your ribs, tuck in your tailbone, scoop your tummy, and perhaps asked to do a few simple leg circles that'll immediately help open up any hips that are very, very tight.
You'll Be Proud of Yourself
It'll be challenging but doable. Both in terms of waking up muscles and forcing yourself to concentrate on every inch of you.
You Won't Worry
In fact, you'll feel extremely safe. The machines kind of nudge or keep you in certain positions, and having a Coach looking after your every single movement no doubt helps too.
What You Learn Walks Out With You
And when you leave, you'll walk differently. Head higher, shoulders relaxed, and much more aware of how engaged and strong you can be in your core. As you return again and again, you'll start imagining how the moves you've learnt at Move Move can be applied when you jog, bike or do yoga.
But the best part is when — without thinking — you adjust in your chair.